Extras Just Authority has newly remastered their hit single, "Ladies Gonna Rock"!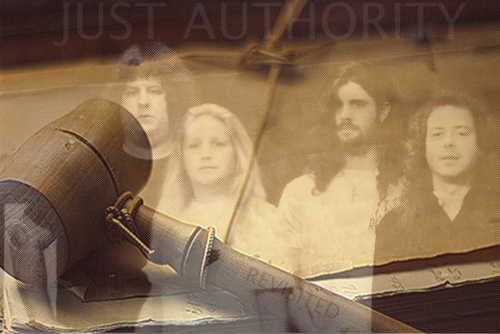 Click to hear the digital remastered version.
"Cool photo. Felt like I was looking right through them...as if they were ghosts!"
JoeMetal, Bakersfield, CA
"If you click on the picture, play the song while staring at Todd and move around the room, his eyes actually follow you! I'm not kidding...try it."
BillyStarFish, Venice, CA
"The new digital remastering is awesome! Did they go back into the studio to re-record this?"
HawkMan, Seattle, WA
"Would have been cool to have been sittin in that recording session!"
BillyStarFish, Venice, CA
"The judge's gavel...is that symbolic, as if to say that judgment is coming down on us all?"
JennyHighHeels, Portland, OR
"Yeah, Jenny, Judgment Day is coming so you better be good. If that's even possible for you! LOL"
HawkMan, Seattle, WA
"Ha,ha, very funny, HawkMan. But seriously, I always felt like the guys were trying to warn us about something. At the beginning of Ladies Gonna Rock, you can hear the wind blowing like a storm is on the way."
JennyHighHeels, Portland, OR
"Wrong Side of Town was sure a warning! Ever since I heard that song, I never go out in the city alone late at night anymore."
ThunderGirl, Los Angeles, CA
"The band's name - Just Authority - always made me think of a judge, and about getting busted and going to court. Not fun things, but at least when I was in court, it sort of felt like I had a presence there with me."
SpeedMetalKing, Fresno, CA
Heavy Metal Heroes Deserve a Second Listen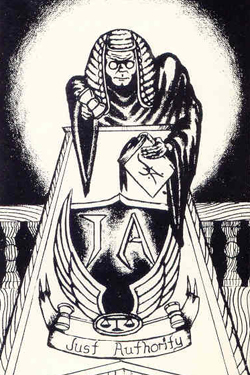 Their hit single has been newly remastered!
"Ladies Gonna Rock" by Just Authority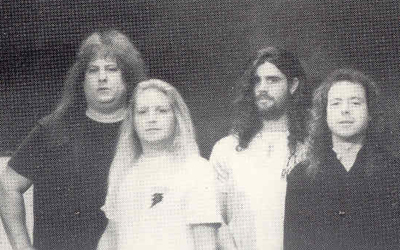 Members of Just Authority in their heyday.
(L-R: Steve Gunn, Todd Shriver, Craig Shuey, J. Michael Rockwell)

This influential hard rock band dominated the L.A. club scene in the early 1990's. Crystal clear rock vocals from Todd Shriver branded this as the "must-see" attraction on Sunset Boulevard. Backed up by steady-handed Steve Gunn on drums, hard-driving bass lines by Craig Shuey, and excellent guitar work by J. Michael Rockwell, Just Authority was the new kid in town.
Powerhouse Todd Shriver never missed a note, painting pictures with his stadium-rock voice in a way that had not been done before or since.
Just Authority ushered in a flood of imitators. But none matched them in style, class or artistic integrity. Their influence was like a tatoo on the arm of Rock and Roll...never to fade away. Rock on, Just Authority, rock on!